Best Free Content Management Systems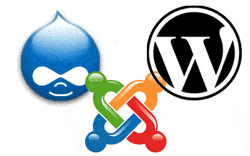 So far in this series we've written about the best free small business accounting software, CRM systems, web conferencing services, ERP systems, and EMR solutions. While all of these segments feature high quality products, no segment quite compares to the quality and diversity of freely available software found in web CMS. Check out our picks for some of the top free content management solutions available.

WordPress originated as an open source blogging system but has grown into an infinitely extensible content management system supported by thousands of plugins, widgets and themes. It's used by millions of people around the world, from low-key bloggers to global brands like Ford, Sony and Samsung. WordPress is licensed under GPLv2 (or later) from the Free Software Foundation. Learn why Business-Software.com uses WordPress in our article WordPress CMS is the Only CMS You Need. You can also learn about the Top 10 WordPress Plugins for Businesses.

Joomla is the second most popular CMS on the Internet behind WordPress, and also happens to be free. More than 30 million users have downloaded the PHP-based software for use on corporate portals, online magazines, nonprofit websites, personal pages and much more. Like its competitors in the open source Web CMS space, Joomla offers easy installation and setup for new users, with room for vast development with thousands of extensions. Joomla is licensed under the GNU General Public License.

Also written in PHP and licensed under the GNU GPL is Drupal. Drupal offers compatibility with the spectrum of content types, more than 16,000 modules, an easy-to-use web interface and design flexibility. Its free community-contributed add-ons supply extensive functionality beyond the core features. Check out these features to learn more about what you can do with a Drupal website.

dotCMS combines Java architecture with an intuitive user interface to reduce time-to-market, improve Web site traffic, and provide a more engaging end-user experience. dotCMS offers both marketing and developer agility. On the marketing end, dotCMS allows companies to engage clients across mobile, social, and Web channels, and deliver on-demand content using advanced tools while maintaining branding across multiple sites. It provides developers with a technology environment conducive to quick development and deployment of site customizations.

Concrete5 is an open source CMS designed for nontechnical users. It provides version management, easy editing of site content, and the quality add-ons and themes that open source CMS users expect. Check out the concrete5 community forums, which are a vibrant source of information and peer support.

SilverStripe is an award-winning content management system that offers simplicity and ease of use for site editors (WYSIWYG) and a flexible framework for developers. It's licensed under the BSD license.
Want more CMS recommendations? Check out Business-Software.com's Top 10 CMS report which compares the best CMS software in the industry on pricing, features, delivery model and more. For additional quality reading material, visit Business-Software.com's CMS resource page.