What Are the Benefits of Human Capital Management Software?
Editor's note: Today's post includes contributions from freelance writer Jenna Gularte.
In today's global market, cultivating a strong labor force has become the most effective means for a business to preserve its competitive advantage. Yet adequately managing your workforce and archiving or analyzing large amounts of data can be time-consuming and labor-intensive. With a human capital management solution, you'll successfully organize personnel information, track employee performance data and boost the efficacy of your workforce.

The Benefits of Human Capital Management Software
Human capital management software is designed to streamline the tasks necessary for a business to manage its people resources. Specifically, HCM focuses on priming and honing a company's workforce through three key categories: workforce acquisition, management and optimization.
HCM is a valuable tool for midsize and large companies in any industry because it utilizes collected workforce data to identify any gaps or weaknesses in employee skills. Armed with this information, managers are able to actively address vulnerabilities by hiring new employees with these skillsets or by assessing and reallocating existing personnel. Human capital management software can also improve employee relationship management, minimize turnover, raise morale and build a loyal and motivated workforce.

5 Key Features of HCM Software
Utilizing HCM software will enable your company to maintain a strong, competent labor force and prepare you to painlessly absorb the impact of employee departures. Here are 5 features of human capital management software that will help take your business to the next level:
1. Talent Management
Workforce planning and analytics will help you hire, develop and retain the best talent. Using an HCM solution, you can assign the best employees to the right project based on their skills and availability. Talent management capabilities will also enable you to monitor progress and analyze the results for better decision-making.
2. Payroll Processing
HCM software applications offer the advantages of paperless payroll as well as anticipate future salary and benefit costs. These applications can also store necessary employee information such as W-2s, general tax bracket information and an employee's history with the company.
3. Employee Education and Training
Training programs and materials to facilitate education increase the efficiency of employees and improve the overall productivity of your business. HCM software provides training tools that help employees become self-sufficient, and a well-trained employee translates into high productivity levels starting on the first day of employment. Many training modules also allow employers to assign and track tasks both during the training period and throughout the employee's time with the company.
4. Benefits Administration
Companies of all sizes experience challenges managing their employee benefits. With rising costs across the board, there has never been a better time to reassess your employee benefits program. HCM will give you the right tools to define, manage and adjust benefit plans to meet your unique business requirements. Essential functions of a benefits admin portal include automatic management of enrollment, medical, stock, pension and other facets of the various benefits included within your company.
5. Employee Access
HR departments are often too busy to manage small tasks that an employee could easily resolve on his or her own. Self-service tools provide employees with access to their own information, allowing individuals to update their personnel details whenever necessary. By giving employees control over their own information, companies will find that employee databases are more likely to be comprehensive and kept up to date.

The Top HCM Vendors
Now that you have a better understanding of the top features and benefits of human capital management systems, it's helpful to understand your software options. Check out the list below for an overview of the top 5 vendors in the industry — a great starting point if you're just beginning to shop around for an HCM platform.
1. Sage Software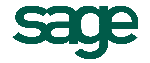 Sage HRMS is an innovative human capital management solution ideal for businesses who seek a comprehensive HR platform with an emphasis on flexibility. With Sage HRMS, your business can address everything from payroll management and processing to recruiting and talent management. With both on-premise and cloud delivery options, the Sage HRMS platform is designed for a company who prioritizes customizability and à la carte modules.
2. CheckPoint HR

Best for small to midsize business, CheckPoint HR ensures that companies with limited resources are able to properly manage employee information, benefits, payroll and other core HR activities. CheckPoint HR is a fully integrated technology platform based in the cloud; the solution spans from payroll through HRMS, with employee benefits included. This cohesive platform eliminates the costs, time and errors associated with coordinating multiple systems.
3. Epicor

Designed for enterprises, Epicor's HCM software combines data, tracking, administration and management to address a wide array of HR functions. Integration within the product is key, giving HR departments more control over all components of managing their workforce. Epicor claims to be "the most intuitive, functional, and adaptive HCM solution on the market," and is the winner of the 2011 Tektonic Best HRMS Award.
4. Infor

Infor offers deep industry-specific HR applications and suites for enterprises, with an innovative user experience design that is simple, transparent and elegant. Infor HCM provides flexible deployment options that give customers a choice to run their businesses in the cloud, on-site or both. The vendor's specialized HCM solutions are tailored to industries such as healthcare, financial services, manufacturing, retail, hospitality and the public sector.
5. FinancialForce.com

FinancialForce HCM meets all of your core HR management needs with its cohesive, scalable, cloud-based human capital solution. With FinancialForce HCM, your company has access to a number of handy human resources modules including recruiting and onboarding, compensation planning, talent management, benefits and core HRMS.

Looking for a more comprehensive list of top HCM vendors? Continue your search for a human capital management solution by browsing our selection of top HR software vendor comparison reports. Compare leading solutions for talent management, recruiting, payroll software and beyond in our free downloadable reports, each of which shares key features, pricing options and delivery methods.
[Photo courtesy of Flazingo Photos]