Contactually: Social CRM That Works Right in Your Inbox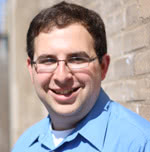 With the amount of complexity that's going into CRM systems these days, it's easy to lose sight of the segment's original purpose: to help an organization keep track of its customer relationships. Contactually, a cloud-based CRM service, aims to bring CRM back on track by integrating relationship-building into your email inbox, the tool you use the most throughout the day. We talked to CEO Zvi Band about the Contactually philosophy of CRM.
To learn more about Contactually, visit their website or our product profile of Contactually CRM. For more cloud CRM information be sure to look at our full listings of cloud CRM tools and CRM software comparisons.
About the Company


WEBSITE: www.contactually.com
FOUNDED: 2011
LOCATION: Washington, D.C.
What was the inspiration behind starting Contactually?
Before this I was running a consulting firm. It was incredibly successful, and successful because I never had to do any advertising or marketing and all of my business came via word of mouth, basically, referrals. Existing clients referring me, industry partners referring these people who may be just mentioning my name and in that way I was able to grow a pretty large and successful business.
At the same time I was also running a lot of networking events here in D.C. and helping to grow the D.C. startup community. I was meeting all these really, really important people all the time. They were typically business partners or customers or clients, and I needed a way to organize this. And despite having grown a successful referral-driven business like so many other professionals I was actually terrible at contact management! I would remember meeting specific people who would be potential customers, and then within two weeks I'd completely forgotten about who they are.
And so I knew that I needed some kind of CRM. I tried every product out in the market, but nothing really worked. They all ended up just requiring a lot more work than they were worth. I realized that pretty much everything I needed all these that could help me was already available in things like my email inbox. I was already like emailing and tweeting back and forth as well as texting on Facebook and LinkedIn with all of these business partners and colleagues and useful people. I wanted something that could track of all of this, so that's how the idea of Contactually first started.
CRM is a crowded segment. How do you guys differentiate yourselves from the competition?
There are lots of different CRMs out there. I mean, the CRM space is crowded also just because it's such a core business need. There's an incredibly large market for this sort of software, and what we've seen a lot of is the CRM sector being dominated mainly by copycats. People will take an interesting service like Salesforce or Siebel and say: "Oh, how can we make this just a little more user friendly or simply it more." All that's doing is building a faster horse.
What we're doing is really restyling what CRM is. For us, CRM is all about the relationships–we're putting the R back in CRM. We do this by doing everything we can to help the end user improve their relationships with partners and clients and help them do their jobs better. We automatically capture profile information and remind users to followup with contacts. For example, we will tell you hey, this is a client you haven't spoken to for 30 days. Those reminders help you make sure you've touched all the leads you have.
Are you seeing any strong correlations in terms of who is using your system in terms of industry or vertical? Has it affected your business strategy at all?
Yes, of course, though we haven't seen any wild variations. The strongest underlying thread is that a lot of our users have businesses that are heavily reliant on people and relationships. So, obviously, you would never expect someone in inside sales to use Contactually, but someone who's doing field sales, or a real estate agent contacting all these new and potential customers and clients all the time is where Contactually really comes in.
What can a small team like yours do that a big-time competitor like Salesforce or Microsoft Dynamics can't?
We don't necessarily consider ourselves to be a direct competitor to something like Salesforce, we're a Salesforce partner actually. But where we differentiate ourselves is that a lot of the existing software models are based on top-down models. With Salesforce, for example, it's very clear it's a tool that's really built for the manager to be able to see and manage the overall sales pipeline. We focus on end users, so we try to meet in the middle with a lot of different functionalities that can actually help people use Salesforce better.
We also have a very sharp, very fast-moving development team. We abide very closely by the Facebook model of quickly bringing in great new stuff. And that's because even though we have thousands of users on our system, we're not yet necessarily a mission critical system. So can move really quick–come up with an idea and then deploy it the next week, looking at the analytics to see how users are slotting it, and tweak it every hour every day until we get the perfect solution.
Contactually has a very vibrant interface. How important is visual design and UI to you guys
Incredibly important. I would even take a step back and say that we've realy focused on building elements like the user interface the way we have because we don't want users to be using Contactually because they were told to by their bosses. We want users to use Contactually because they get a lot of value out of it, and having an engaging interface is a big part of that. From the very beginning we focused a lot on building a really great vibrant interface that loads fast and does everything possible to save the user time.
You also have a big focus on analytics. What sort of data insights do you provide and how would a client go about using them?
One of the core reasons we started Contactually was when we looked at the average business or enterprise user the biggest database they have, and which they almost never touch, is their email archives. Everything is backed up and archived, but they don't actually do anything with that data.
We focus on minding the inbox of this or that individual or an entire company and coming up with really usable insights; for example, information on how many contacts you've been reaching out to on a daily basis, andhow many of those are new relationships. Those are some of the analytics we're able to display. We can look, collect and analyze. We can collect all these analytics and show the user a list of all these clients that no one has spoken to recently and have fallen behind. From there contacts can be reassigned to different team members.
You guys just started out last year, but how has the CRM segment changed since then business-wise and technology-wise?
When we initially started the company last year and I started talking to investors, CRM was considered and incredibly un-sexy market. It was like that for enterprise software in general, but over the past six months we've seen something of a tide change. Now enterprise software is considered a hot market. Enterprise software companies are now perceived as building real value and being able to make real sales. As an enterprise software company we are incredibly excited.
What's the biggest challenge you're currently facing and how are you addressing it?
It's an ongoing problem that we realized before we had written a single line of code, and it's knowing what you want to build. We always question ourselves, we always get lots of feedback from users–"oh, wouldn't it be great to have this? You should change that!" It's really a matter of figuring out and prioritizing what to actually build. What will get us more users, what will get larger companies to start trusting a growing startup like ours. Different members of our team have been learning about how they work and how we can help the work of others.
We capture user feedback in a central database and review it at least once a week to get a sense of what the popular requests are. From there we can figure out what really fits into the next revision, and if it doesn't fit our vision then what software can we integrate with or refer that user to? For example, a lot of users ask for the ability to send out a lot of emails at once through Contactually, but I don't think that's really in line with what we do as a relationship manager. So instead what actually did was integrate with MailChimp. I think that's a really good model that other companies are going to adopt. Rebuilding versus integrating well.
Where do you see the CRM segment going in the next five years? What sort of challenges and opportunities are on the horizon?
Recently enterprise software has been all about breaking with the previous model and moving services into the cloud. A lot of that is complete now, with more and more people moving to Google Apps for email, which is hosted in the cloud, and things like Salesforce, which is hosted in the cloud. With that and trends like Bring Your Own Device (BYOD) in mind I think we're going to see a big push in the consumerization of IT. It all revolves around the idea of engaging the end users as much as possible and not just selling software that appeals to the manager.
What's the most exciting thing about working on Contactually for you?
I believe it's the users. If you go to the case studies section of our website you can see how we really try to understand how Contactually works for people. It's things like when I see that someone got a job by using Contactually with their job searcher to follow up with the right person at the right time. Another person closed an extra billion dollars of sales in a quarter by using Contactually. Those kinds of stories make it completely worth it every single time.

Ready to compare Contactually and other CRM platforms to find the best fit for your business? Check out our Top 10 Small Business CRM Software comparison report for solutions targeted at SMBs, or browse all of our other free CRM comparison reports.