Must-Have Features of Ecommerce Software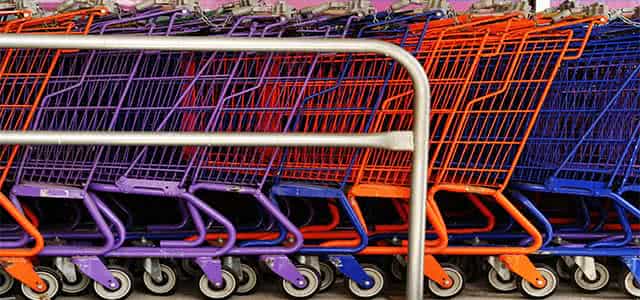 You wouldn't just date the first person you found off the street, would you? When we're out looking for that special someone, we tend to check off the qualities that are important to us in order to determine a match: good hygiene, strong moral values, fun sense of humor, mutual distaste for "soft rock," etc. As is true with the foundation of any good relationship, businesses on the prowl for ecommerce software should similarly be keeping an eye out for the best features that will yield a strong and long-lasting partnership.
While you and your employees are responsible for the bulk of most day-to-day operations, ecommerce software can truly serve as a business' better half. Through managing arguably the most critical component of a customer's online experience, the purchasing process, having great ecommerce software that works well with your business is absolutely essential to success. Fortunately, we here at Business-Software.com have compiled a list of features of ecommerce software that you should be aware of when choosing the perfect solution, so that you don't accidentally end up heartbroken.

1. Customization

They say looks aren't everything, but when it comes to your online customers' shopping navigation, this couldn't be further from the truth. According to Baynard Institute a bloated, cumbersome checkout isn't going to cut it in this day and age. Exemplifying this in their recent report, Baynard revealed that nearly 70 percent of shopping carts ultimately end up abandoned — regardless of industry or business type. In order to cut back on these lost sales, your payment process needs to be easy to follow and equally engaging.
Many of the best ecommerce platforms have great personalization tools that allow you to tailor a virtual store template to fit all the needs of your clientele with drag-and-drop efficiency. Make sure your ecommerce solution of choice has capabilities that keep shoppers from having to wade through your entire catalog, such as product recommendations and tailored search results, to get buyers through checkout before they lose interest.

2. Safety and Security

Relationships are nothing without trust, and neither is your ecommerce platform. The guaranteed security of your own and, more importantly, customers' personal information is paramount. Having an ecommerce solution that is outfitted with all of the latest safety features will put both you and your shoppers' minds at ease, making them more likely to follow through with a purchase while lowering your chances of ending up in a PR nightmare.
SSL with industry-standard 128-bit encryption (256-bit if you can wing it), PCI certification and firewall protection are the essential security measures you're going to want that top pick to have. Consider data backup and intrusion detection capabilities, along with routine testing, as additional features to incorporate if you'd rather be more safe than sorry.

3. Marketing

Being able to reach out through your ecommerce platform to communicate with and attract new clients is crucial to creating an open dialogue between your business and customers. Ecommerce solutions such as Shopify come ready to go with email marketing capabilities that can alert clients to sales and new products, pushing repeat purchases.
Having the ability to not only effectively advertise but also effortlessly manage deals and discounts is important. Additionally, user review options are another great way to easily showcase your products' value and boost confidence in your brand, so make sure your ecommerce platform has you covered.

4. Mobile Accessibility

No one likes someone who's never available. Likewise, your ecommerce solution should be readily accessible to your customers when they need it from whichever channel they prefer, especially on mobile devices. Forecasts predict a staggering growth of 37 percent in mobile ecommerce this year, and expect the market to generate over $100 billion in sales per year by 2017.
Check that your ecommerce solution is fully capable to ride this wave looking forward, as establishing a consistent mobile marketplace now will help to ensure your success in the long run and keep your customers happy.

5. Social Capabilities

As elsewhere, social opportunities are turning heads all over the ecommerce world. The best ecommerce solutions are now offering shared sign-ins and built-in connectivity with popular social media sites like Twitter and Pinterest in order to further connect with customers.
Like, share and post your way to the top right from your site, or add a fully functioning storefront to your own Facebook page to bring your products even closer to potential customers and drive sales. This deep integration will push your brand awareness and help to garner a loyal and steady constituency.

Find the Software with the Right Features
Hopefully this list of features will help you find the perfect match that'll elevate your business to its highest potential. If you're ready to start looking at some of our favorite commerce solutions, head over to our Top 6 Ecommerce Software Tools post or download our in-depth Top 10 Ecommerce Software Report.
[Photo courtesy of Jim.]