From the Community: The Best Web-Based Webinar Software?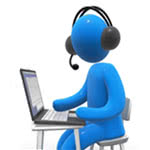 Welcome to Business-Software.com's latest addition to the blog, a weekly series called From the Community where we highlight questions from our community members. Join us each Friday as we dive into the featured inquiry.
This week's question comes via Sabrina C.: "What are the best web-based solutions for webinars?"
In her question, Sabrina mentions both WebEx and GoToMeeting, two major webinar offerings from Cisco and Citrix, respectively. Both are robust solutions, though for the list of recommendations we've put together here we went with Citrix's product, if only because of our own positive experiences with it.
Now, to start off, "best" is, as we've said in many posts and many an answer to community questions, is a rather strong term. First of all, each organization has unique requirements and preferences. Second, neither software features nor business requirements exist in a vacuum–meaning to say that stuff changes on such a frequent basis that what's considered "the best" right now might not even be bare minimum acceptable a few quarters from now.
Your office might not need 720p-quality video transfer for weekly departmental meetings (do you really need to see that PowerPoint in HD?), but what happens when the company contracts an outside design firm from the opposite side of the country who'll be demoing video advertising concepts to you twice a week? The chances are you're not going to get a TV-quality picture using Skype's integrated video.
Important Features
Here's a handful of key features to be on the lookout for when shopping for a webinar solution:
Easy Sign-in/Joining Process For Guests: We can't stress this one enough. Nine times out of ten people will be joining a webinar five minutes before zero hour, if that. Having to run around like a headless chicken at the last minute because someone can't log onto the webinar is bad for all parties involved.
Form That Fits Your Functions: For example, if your work involves a lot of presentations and/or demos on a regular basis you should consider doubling down on a webinar solution with high video fidelity. Inversely, if your emphasis is on unstructured discussions then high-end video features shouldn't equate to pluses on your checklist.
A Good Screen-Sharing Function: It's remarkable how even in the most structured and linear webinar sequences how useful it is to be able to pull up your screen and draw some basic visuals on it to illustrate points for an audience.
With those points in mind here are three of our own favorite webinar tools:
Web-Based Webinar Software: Our Recommendations
Citrix GoToWebinar


Citrix is one of major players in webinar and teleconferencing software, and with good reason. All the GoTo variants feature what's quite possibly one of the most straightforward and easiest processes for hosting and joining meetings. Combine that with a large amount of useful features included on the free version and you have one of the strongest offerings in the webinar space currently.
ReadyTalk


ReadyTalk Web Conferencing has a strong advantage in that, unlike Citrix's offering, webinar participants don't need to download a software client to be able to jump in and get started. Additionally, organizers can patch in up to four simultaneous video feeds, record events and conduct participant polls. The only downside, as we note in our Editor's Review, is that there's no native support for dynamic slides.
AnyMeeting


By and large our favorite AnyMeeting feature is the ability to host a webinar of up to 200 attendees all on the free version of the software. Admittedly, the free version is ad supported, which might be less desirable for organizations wanting to exhibit a more professional image in their webinars, or who are more sensitive about company branding. Additional features we like include customizable registration forms and followup emails to send out to attendees.
Have a question you'd like us to feature in our weekly blog post? Send us an email at marketing@business-software.com or tweet us at @BiznessSoftware with the hashtag #softwarequestion after you've posted your question to the Business-Software.com community and we'll do our best to make it happen.
Want more on Web Conferencing Software? Browse additional blog posts, product reviews and the top 10 report using Business-Software.com's web conferencing resource page.