How to Choose a Software Vendor: Asking the Right Questions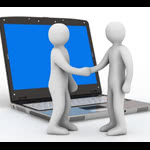 I was recently on a call with a potential customer, and, as we were wrapping up, my colleague asked if they had any more questions for us. There was a slight pause and then the prospect asked what questions he should he ask us. This was the first time I had heard a prospect pose this question, but the answer is very valuable.
Making the Wrong Choice
In 2012 a Forbes blogger outlined the massive costs of choosing the wrong vendor by referencing some infamous cases, including the $100 million Hershey lost on Halloween 1999 — but you don't need to read the blog to know that there are big costs associated with a poor vendor choice or botched implementation.
As a Product Manager, part of my role is evaluating Independent Software Vendors that we come across. Although we primarily focus on CRM, as a company, we also keep abreast of the other technologies out there that we may work with or that compliment CRM. Internally we have a formula and formal process for evaluating these software and their vendors that includes live demos, references, and fact sheets. This process helps us consult with our clients to make the best recommendations when choosing a software vendor, and it's second nature to our team. Yet we recognize that not all companies have a formula for this process, but still need to evaluate vendors in a quick and efficient manner.
Answering the Question: What questions should I ask?
There are dozens of articles that you can peel through to read about the reasons software implementations fail and what to ask to avoid it. But there are some initial questions you can ask to save your time and energy during this process. The overall idea is to evaluate a software vendor based on critical criteria first by asking the correct questions. These three crucial questions can quickly help you assess your potential vendors and narrow down your options.
Can you/your software address the problem? Specifically ask if they can address your problems — don't assume that they have addressed problems like yours before or that they even understand what your current issues are. Look for answers that indicate experience in your problem space and don't be afraid to ask for clarification around their understanding of your issues.
Next ask them why their software is different, and how that makes it a good fit for your organization. Look for answers that indicate that they were listening to you and understand your needs, like "So you use your Outlook on a daily basis and you want to continue to do that — our CRM integrates with Outlook seamlessly, better than our competitor, so you can continue using it like you do now with the additional functionality built in."
Tip: In an initial engagement be prepared to discuss your current state and desired future state, keep it simple, and directly ask the vendor if they and their software can help. This will keep you from wasting time initially getting into the weeds over details.
Can you provide me with references? This seems obvious, but oftentimes prospects don't ask us this right away. This question can lead to a potential red flag. The vendor may be too young to have any solid references, and, depending on the size of the project, this could mean they aren't mature enough to handle it. We offer our prospects the opportunity to speak to references in the same or similar industry often before they even ask, and any legitimate software vendor should be able to provide the same.
Tip: When we ask ISVs this question, we want references that are not only the same or similar industry, but also the same or similar size as our customer base. Ability to scale can be a problem during implementation, so we need to know what their experience is with companies of different sizes.
How can you/your software address the problem? Basically you need to ask for how they implement their software and/or how they manage projects. This is a big question, but a vetted software vendor should be able to provide these processes readily. Here are some big items you should ask to see formal managing processes for: discovery and requirements gathering, communication during the project, training and user adoption, and scope creep.
Tip: If it applies, ask the vendor if they use the software they are implementing — this can be a good indicator for how much confidence they have in it. Our specialty is Microsoft Dynamics CRM, so we use Dynamics to manage our customers because we think it's the best solution and we can do the most with it.
There are a lot of other discussions that should be had around topics such as architecture, integration, etc, but these three questions will give you a quick assessment of whether or not a vendor is worth anymore time and energy, and should provide a good platform for further discussion.
Ready to start the selection process? Download our Top 40 CRM Software report for side-by-side comparisons of the best CRM solutions on the market. Find more selecting and buying tips on our CRM Research Center page.