Leveling the Playing Field for Ecommerce

Brightpearl is fully integrated web-based business management software that provides big functionality to small and medium businesses. CEO Salman Malik joined us for a discussion on the future of ecommerce and leveling the playing field for SMBs to compete against industry giants.
If you'd like to learn more about Brightpearl, please visit their website or review their Business-Software.com profile page. For more insights on ecommerce solutions take a look at our exclusive Top 10 Ecommerce Software report as well as our comprehensive Ecommerce/Retail Management resource page.

About the Company


WEBSITE: www.brightpearl.com
FOUNDED: 2006
LOCATION: Bristol, UK
PROFILE: Brightpearl
What is Brightpearl's mission?
Our mission is kind of in our tag line: sell more, sell better. What that really means is, we're out to help companies sell wherever their customers are, whether that's online, in stores, or over the phone. Online means not only through their web stores, but also through the increasing range of electronic market places that our customers use. So our intent is in part to provide a web store platform for our customers. The other half of our mission is to sell better: enabling our customers to take orders and place their inventory through off- and online channels, and to have all of their orders, inventory, customer interactions, and customer data in one place.
The big concepts in Brightpearl's world are helping our customers take orders, manage their inventory, and update all their sales channels with inventory status; and then knowing their customer, in terms of what and how much they bought; and any other interactions around them. Brightpearl essentially allows you to track all of your conversations with customers, including notes, emails, documents exchanged, etc.
Your solution is very comprehensive: you're doing a little bit of accounting, and there's accounting and CRM involved. What inspired you to do it like this, to cast such a wide net?
We cast a wide net, but we're pretty focused on the problems that we're solving for our customers. You know, big companies can buy lots of different software modules and pay to have them seamlessly integrated. Small companies don't have that luxury, so we wanted to give business owners somewhere to go to learn about their customers: one place that collects information on inventory and all orders they receive through all the various channels that they sell through, so that they won't have to go out and separately integrate all of the different systems that are required to get you those things.
To the extent that we have an accounting system, that's built into Brightpearl because if you do all the aforementioned things right, you basically have a double entry accounting system. In the back end, the accounting just happens, as a side effect of running your business. We don't see it as a separate activity.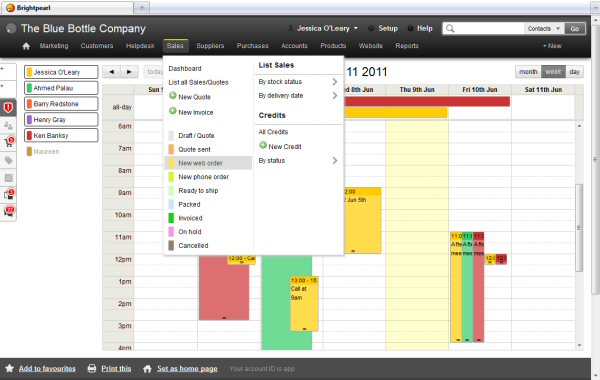 Why should people take note of what Brightpearl is doing?
We provid a solution for multi-channel commerce. We incorporate all data from the point of sale, right back to the accounting engine in the back-end and everything in between. So our level of integration is different than what others – cloud solutions, for instance – offer. There are on-premise software packages that can help you get part of the way there, but they're not available to you as a business owner when you're out of the office, and they're not available to part-time employees or external partners. And I'd say a final differentiator for us is we try to think about the business from end to end, so we design our software with what we think is a holistic view of the commerce business, as opposed to taking a functional view and saying, "You know, we're really about accounting," or "We're really about inventory management," or "We're just about the ecommerce part of it." And that goes back to the integration point, and that we do more in one package so that you don't have to glue lots of different pieces together.
How is your company set up? I understand you're headquartered in the UK.
The beauty of selling over the web is that, really, we're everywhere. But we have our headquarters in the UK and we have an additional office in San Francisco.
And your customers? Where are they located? Who do you target? And what do they say about Brightpearl?
We have customers in forty different countries, in all kinds of lines of business, from selling electronics to fashion to industrial products. It's a really broad mix. Our customers are very small businesses, typically with less than fifty employees, but most often with less than twenty five employees. Many of our customers are sole proprietors of their business.
Brightpearl started as a solution to run founder Chris Tanner's skateboard company, so we set out as a platform to run a sporting goods manufacturing, retail, and wholesale business. Our founder's business, Lush Longboards, sold directly to customers and distribution partners and manufacturers themselves. So we started out in sporting goods, but now we're active in a great variety of B2C and B2B commerce verticals. We have a fair number of customers who are selling high-growth clean tech or new tech products, with everything from LED lights to solar panels to home energy automation. But our fastest growing customer base comes from companies that are selling physical products on- and offline, which involves taking orders and managing inventory.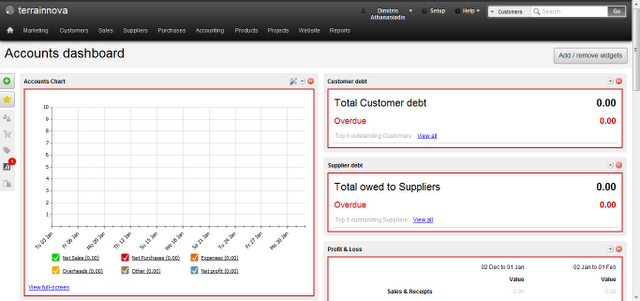 Where do you feel the commerce segment is headed? And what will Brightpearl's role in it be in, say, 5 years?
That's a really good question. The way commerce is done is completely being rewritten. We're big believers that companies will need to sell everywhere – that's part of our value proposition – and selling everywhere is potentially really complicated without a platform to help you do it. And so we think that a few years out, you won't really have companies anymore that sell only offline, or only online or, if online, only through their web store. Everyone will need to sell through multiple channels because that's how customers want to buy. If they come across a great product in a store and they can't make up their mind, they'll want to be able to buy it over the web later. And similarly, if they find something on the web, and then later they're browsing through Amazon and you're not listed, they're going to buy it from whoever is selling that same product on Amazon. You really need to make sure your product is visible to customers wherever they are. Our vision is to provide a platform to do that, and that keeps you sane enough to run your business effectively.
What do you find most exciting about your software? What makes you want to be a part of Brightpearl?
It's the scale of the opportunity and the fact that there are a lot of companies that need a commerce management platform. If you're looking for a tagline of what we are or a category that would define us, I'd call it commerce management. We aren't in the ecommerce business ourselves – we partner for that. We're obviously not eBay or Amazon or Play.com in the UK. We can integrate with them, of course, but we ourselves provide a platform that lets merchants run their businesses and track customer orders and inventory, and that hasn't existed for small businesses before. We're really helping small businesses take advantage of the kind of technology that big businesses have had for decades.
I remember a report that came out, maybe seven or eight years ago. It was done by McKinsey & Company, and it looked into why US productivity had been growing so rapidly in the 90s and the early part of the 2000s despite the dot-com recession. It found that half of all US productive growth could be attributed to one company: Wal-Mart. So if you looked at productivity growth in terms of the business amount and products sold for a given amount of investment, Wal-Mart was hugely dominant in keeping prices low throughout the American economy and allowing other businesses to, in effect, grow quite rapidly. And if you look at what made Wal-Mart so successful, it had everything to do with information systems, and the fact that Wal-Mart knew exactly where its inventory was at all times. As a result, Wal-Mart didn't have to carry as much of it as their traditional competitors did at the time.
It has been really difficult for small businesses to get access to that kind of technology, to allow them to run as lean as possible. So for us, that's part of the excitement, to offer the small guys something the big guys have had for a long time. We're leveling the playing field.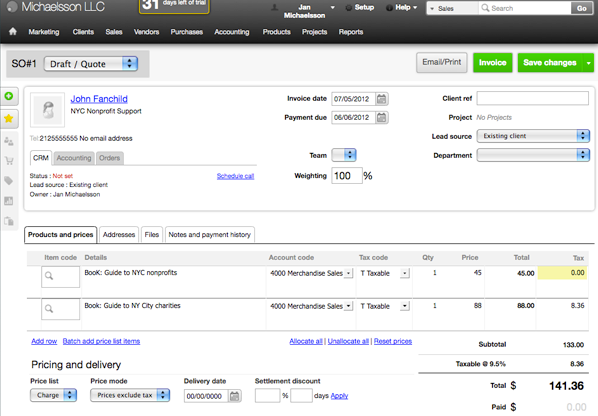 Who do you feel are the most interesting people or companies in your market segment right now and why?
I actually refer to Apple a lot, and not just for the products they made, but for the true retail experience they provide. There are two things about the Apple retail experience that I think really point the way. One is that they know about their customers across all channels. The second is that they make the interaction effortless. So when you're in a store, you can check out anywhere, you don't have to go a cash register, because an Apple employee with a smartphone will scan the barcode on the product in your hands, swipe your credit card, confirm your email address so that they can just send you a receipt electronically and you don't have some piece of paper flying around, and then once the receipt is in your email, you can do whatever you want with it – file it, expense it if it's a business expense. That experience is so much better than you get in most retail stores. It shows that Apple really thinks about who the customer is and how to deliver a great shopping experience. So for us, that's one company we look to a lot. In the UK, you've got companies like John Lewis, who won't be well known in the US, but who provide a really great multi-channel experience where you can order something online and have it available at store. If you order something online for home delivery, you can return it in the store if that's most convenient for you. So those are some of the companies that are doing really interesting things.