Preparing Your Business For CRM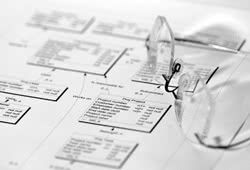 When businesses invest in CRM for the first time, or seek to upgrade to a more powerful software package, many believe that expenditure is the biggest hurdle to success. It isn't. It's the implementation, and the preparation for that implementation, that can make or break CRM success.
More than half of CRM solutions fail because of poor implementation. And by fail, I mean adoption is poor, usage is poor, communication is poor, and as a result, the CRM system itself gets the blame. If I had a pound for the number of times I've heard "this system is useless", I'd be able to retire. No system is useless, if implementation is prepared for successfully.
Here's how to prepare for CRM, and ensure that not only is implementation a success, but the CRM is adopted and used to its maximum benefit.
Ownership
Again, if I had a pound for the number of times I've heard "it's not my problem", I'd already have taken early retirement. It's everyone's problem, and it's everyone's solution. Everyone owns CRM, from top to bottom, but it's important to underline this by driving ownership from the very top. Senior-level backing of a steering committee or a project team aimed at promoting ownership and usage of the CRM is essential. Buy-in from the top means buy-in at the bottom, and everywhere in between.
Equally, project champions should be nominated throughout the business, driving engagement within each department. I've seen implementation projects brought to life by departmental champions who have not only given their all for the project, but have brought issues and improvements to the table.
Strategic Direction
Actually, what do you want from a CRM? Why are you getting one? If your business has five business goals or strategic aims, align the CRM to each and every one of them. For example:
Growth: how is the CRM going to help you drive new business
Loyalty: how is the CRM going to increase customer loyalty
Market-leading: how is the CRM going to communicate the fact that you are market-leading?
High-performing: how is the CRM going to help drive performance levels
Hold workshops to map out the answers to each of these questions, and get champions within each department (sales, marketing, finance, operations, etc.) to lead the workshops and promote usage within their teams.
Participation
Depending on your selection of CRM, you will always have work to do in customising it for your business. For example, with Microsoft Dynamics CRM, you will have everything at your disposal, and you will need to cut away the parts your business doesn't need. With Salesforce.com Sales Cloud, you will have the opposite scenario–you will have the base CRM and you build up what you need.
Either way, the information that was fed through the workshops should lead to more detailed workflow and processes dictating how the CRM is going to function. In other words: what do we need to do, and how are we going to do it?
What custom fields are required for each department / function?
How are the screens going to look?
Is there are 360 degree view, and if so, how does it function?
Above all, participation should transform itself into empowerment. How empowered do users feel about the CRM solution, and do they feel able to suggest improvements?
Communication
Never let a steering committee hide their light under a bushel. One of the main failings of CRMs in the past has been the lack of communication. Indeed, its direct opposite, over-communication can also be a failure. What is required here is concise, precise and targeted communication of where implementation is at, what needs to be done, what's coming up next, and how it affects everyone in their day-to-day jobs.
A gradual roll-out of solutions, accompanied by communication of reporting on milestones, successes and ROI, brings CRM implementation into real life.
Because ultimately, that's what CRM is all about – real life. It affects relationships with customers, it affects relationships with prospects, it affects the relationship between marketing and sales, customer service and operations – and its implementation requires that everyone is a stakeholder.
Remember that mantra, and CRM implementation should go like a breeze!

For more information on how to prepare for CRM, check out our handy CRM software resource center to access all of our content on CRM implementation dos and don'ts, best practices and more. If you're prepared to start shopping around for your perfect CRM solution, download one of our top CRM software comparison reports, which are compiled by industry experts.