3 Specialized Software Companies at Dreamforce Challenging the Status Quo
On the surface, Dreamforce appears to be all about the leading CRM cloud provider (AKA Salesforce): many of the Dreamforce exhibitors are built on the CRM solution or offer deep integration with it, the event serves as a platform for the company to debut its latest products and features, and every year Salesforce CEO Mark Benioff finds new ways to insert himself into the whole shebang.
But at its core, the convention represents more than a locale for pushing products and scanning attendee badges. Dreamforce marks a gathering of many of the most innovative companies in the industry — companies that are challenging the status quo of software and actively transforming how we build and manage software solutions.

The Dawn of Specialized Software
Once dominated by a handful of untouchable top dogs, the software industry has experienced incredible growth and diversification as of late. Although many of those top dogs remain at the front of the pack, enterprises today are by and large turning to modern, specialized software solutions to solve their unique business needs.
All-in-one platforms that perform a range of tasks at a minimally satisfactory level simply don't cut it anymore. Today's businesses require specialized tools that excel at optimizing a precise element of their business processes, which, when combined with other specialized solutions, provide a powerful software base to optimize operations. And surprisingly enough, an event hosted by one of the biggest industry dominators has become the perfect place to glimpse some of these revolutionary specialized platforms.

3 Companies Shaking Up the Software World
Just who are the newbie vendors hoping to stir up the industry and transform how software is designed and employed? Let's take a look at three specialized software companies at Dreamforce who are taking a different approach to standard BI apps, marketing tools and sales products.
6Sense — Instead of Birst and SAS
Used For:

Predictive Analytics for Sales
Other Standout BI Companies at #DF14: Acuity, iProfile, Lattice
With predictive analytics pegged as the next big thing in sales, new and legacy vendors alike are developing (or acquiring) software with intelligent predictive capabilities. And while you'll find a considerable number of companies pushing these types of products at Dreamforce, they often rely on lead scoring as a key component for identifying prospects and buyers. 6Sense utilizes that knowledge as well, but it also does much more.
At its core, 6Sense is a predictive analytical tool for sales and marketing that aims to improve and jump-start the prospect-to-buyer lifecycle. What makes 6Sense stand out from other predictive analytics platforms, though, is the tool's ability to identify new prospects at the start of the sales cycle rather than at the bottom of the funnel — which it does using predictive algorithms and behavioral data. By reaching the customer earlier on in the cycle, 6Sense enables clients to drastically increase lead generation and conversion rates, and the platform claims an 80-percent rate of accuracy.
6Sense's Notable Features:
Targets new contacts that are identified at the start of the sales cycle
Predicts buyer actions and provides reasons for these predictions
Predictive models are custom built based on client needs
Influitive — Instead of Marketo and CallidusCloud
Used For:

Advocacy Marketing
Other Standout Marketing Software at #DF14: Dotmailer, Gainsight, Salesfusion
With many marketing platforms and lead management tools, the focus falls on how to generate more leads and how to better retain those prospects. Yet these types of software applications don't always utilize current customers in the best way (if at all). Influitive, on the other hand, understands that your best marketing 'tools' are your customers. With Influitive's AdvocateHub platform, companies can actively engage with and encourage satisfied clients to share their love for a product.
Influitive integrates with your customer-based systems (like CRM), invites clients to advocate your brand on social channels and rewards them through gamification-style activities. This not only allows businesses to reach a larger and more diverse audience than a lead prospecting tool enables, but it also encourages the most genuine form of endorsement a potential buyer can encounter. Consumers don't trust product endorsements made by companies or brands, but they do trust their friends' opinions.
Influitive's Notable Features:
Empowers customers to post product reviews and ratings
Tracks all customer activities including reviews, testimonials and referrals
Analyzes client behaviors and activities with reporting tools
Integrates fully with your Salesforce platform
Footprints Mobile Data — Instead of SAP
Used For: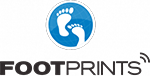 Mobile Sales Force Automation
Other Standout Sales Tools at #DF14: ClearSlide, Qualtrics, ToutApp
Once a thriving category of software, standalone sales force automation tools have virtually become a thing of the past, as many CRM platforms now offer built-in management of sales tasks. Yet mobile-capable sales tools are cropping up to fulfill a new need: one for immediate access and on-the-go flexibility among salespeople who are out and about, meeting with clients and prospective buyers. Footprints Mobile Data addresses exactly this need — except the mobile app does it in a uniquely innovative and user-friendly way.
Footprints integrates with your Salesforce platform and pulls all relevant details for employees in the field to easily review nearby clients, check the status of open tasks, generate reports and update information that resides in your Salesforce tool. With geo-fencing technology that maps out customers and visualizes to-do items, the Footprints app encourages field agents to make use of your CRM platform. And by automatically tracking your salespeople's activities, Footprints allows managers to easily review their team's progress and see real-time field status updates without requiring members to manually check in.

Can't get enough of our picks for innovative companies we saw at Dreamforce? Check out our post highlighting five innovative vendors found on the Cloud Expo floor, as well as all our other content developed around our the Business-Software.com team's experience at Dreamforce 2014.