The Growing Trend Towards Lean, Mean CMS Machines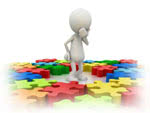 With CMS giants like WordPress, Drupal and Joomla offering more, more, more features, sometimes we wonder if less isn't more. Many of our community members- especially small business owners- have asked us for recommendations for straightforward, simple CMS alternatives that make maintaining a site easier rather than more complex. The Lean start-up trend has become a mainstay in the tech industry in the past few years, so it's no surprise that some people are translating this "less is more" mentality to their software design as well. One of the latest trends in the content management world is a wave platforms that are cleaner and easier to use than their plugin-rich cousins.
Advantages of Slimming Down Your CMS
The advantages of cutting the fat from your CMS are clear; they're faster and cleaner than traditional content management options, but they still pack a punch when it comes to the basic features that you use on a daily basis. Their simplicity usuals lends them a more intuitive, user-friendly; since there aren't a ton of extra features to learn, it's easy to jump right in and start using these platforms from the start.
A few years back Gartner brough us the concept of the lean portal, or "portal-less portal," which focused on making the dashboard as minimalist and efficient as possible. This focus on creating a streamlined content experience is a critical element of the lean CMS movement. Web 2.0 technologies like AJAX, widgets, and REST (representation state transfer) are all key features in the design of lean CMS portals.
Is a Lean CMS Right for You?
For many people, lean CMS alternatives can't outweigh the power of traditional CMS systems like WordPress. Feature-rich CMS options are still the way to go if you have a large site with complex functionality. But for small companies, content management beginners and anyone looking to simplify their software, lean CMS software options are fast and effective alternatives to heavy-duty platforms.
Selecting a Lean CMS
There's no shortage of fast, light CMS options available, and their streamlined nature makes it a little easier to narrow down the playing field for yourself. Check out these 5 great lean CMS options that can take you from bloated to streamlined.
User experience is paramount for Backbase, which puts an emphasis on creating a lean, intuitive portal for customers above all else. While user portals are Backbase's centerpiece, their easy to use CMS reflects their dedication to the user experience. With in-context editing, a powerful content database and integrated site analytics, Backbase CMS is built to "wow" its users on the front end and the back end.
Want to experiment with lean CMS without paying to make the switch? CushyCMS's free edition offers some great basic features to get you off the ground and running. If you go with their (very affordable) Pro edition, you get even greater ability to customize your site with features like unlimited page creation and page cloning functionality.   CushyCMS supports 20 languages and has great customer support for its Pro subscribers.
Surreal is a lot like Cushy CMS, with some added perks that make it worth its modest price. You can manage up to 3 sites with a free account, which also comes with great features like rich-text and WYSIWYG editors, and page cloning. If you're a designer, you can easily give per-page permissions and content access to your clients without risking their compromising your design or editing something they're not supposed to.
Ruby On Rails is the favorite web-building framework of start up site builders right now, and Radiant taps into that popularity and power with its Ruby-based content management system. The open source, free CMS is designed for small teams, and works better for designers with a little more technical background, but it gives users a lot of power and flexibility while staying simple and light.
XML-based GetSimple is designed specifically for smaller sites. With an easy-to-use interface and the ability to "undo" any action easily, GetSimple is great for content managers who want a safe, secure way to manage their content online. The system is free and installs in about 5 minutes, and has the added advantage of an excellent community forum and Wiki documentation to guide you along the way.
Want more CMS recommendations? Check out our Top 10 CMS report, where we compare the best CMS software in the industry on pricing, features, delivery model and more. For additional research and reading material, visit Business-Software.com's CMS resource page.