What to Watch for at Dreamforce '12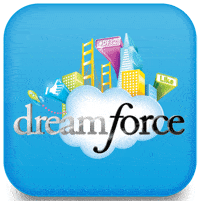 Today through Friday, anyone with a stake in cloud computing will be paying close attention to Dreamforce '12. The 10th incarnation of Salesforce.com's annual cloud computing convention will be held for the 8th straight year at the Moscone Center in downtown San Francisco. Marc Benioff and the Salesforce team are predicting attendance in excess of 100,000 people, 30K of whom they expect will tune in online. The event will feature 350 cloud-computing vendors across segments demoing 1,000+ solutions for the Salesforce faithful, with a keynote speech by Benioff and appearances by Sir Richard Branson, Gen. Colin Powell, Jeff Immelt, and Angela Ahrendts of Burberry.
The State of the Cloud
The whopping scale of Dreamforce '12 and rock concert atmosphere are a testament to how far Salesforce.com and cloud computing have come in the past decade. Back in 1999, after a successful tenure at Oracle, Marc Benioff launched Salesforce.com out of his San Francisco apartment on the revolutionary idea that enterprise software could be effectively delivered through the Internet. Today, Salesforce.com is the leading enterprise cloud computing company with a strong focus on the social enterprise.
The first iteration of Dreamforce back in 2003 was much more modest affair than this week's blowout—a mere fifty exhibitors and just over one thousand attendees showed up at the Westin St. Francis to preview the latest Salesforce.com release, explore new products, and listen to insight from speakers including Microsoft alum David Vaskevitch, CNET founder Halsey Minor (remember him?), and Chris Thomas, chief e-strategist of Intel.
The theme of Dreamforce '03 was "Imagination You Can Use," a vague proclamation of the real-world value behind cloud innovation. At least that's what it sounds like. This year's theme, "Touch the Social Enterprise," is far more relevant to the industry with the social trend gaining incredible momentum.
The Social Enterprise
Expect the concept of "social" to factor heavily into conversations at this year's convention. If you're not fluent in the current social landscape, it's probably worth a few minutes time to read up on the big players, acquisitions, and general direction of the segment. Business-Software.com has covered the social space aggressively over the past few months. Check out the following articles for insight before heading over to Dreamforce:
Benioff's keynote address, which will happen on Wednesday morning at 9:00, will center around the idea that "Business is Social." His speech will undoubtedly be polished and optimistic, though it will be interesting to see if he addresses Chatter's unimpressive adoption rates and the well-known challenges to implementation that face enterprise social vendors.
Want to access more information on top industry trends and news? Browse our complete collection of software news by visiting the News & Trends section of the Business-Software.com blog.