From the Community: Alternatives to Salesforce.com CRM for Small-to-Mid-Size Companies
Welcome to Business-Software.com's latest addition to the blog, a weekly series called From the Community where we highlight questions from our community members. Join us each Friday as we dive into the featured inquiry.
With Dreamforce coming up in a few weeks we figured it was as good a time as any to address question of finding serviceable alternatives to Salesforce.com CRM!
In his question Kevin M. asks: "What are some good alternatives to Salesforce.com for a 5-to-12-employee company?"
Since its inception Salesforce has grown to become one of the titans of CRM software and a torchbearer for the cloud. In recent years the company has expanded away from its initial focus on CRM as well.
Why Salesforce is the 10-Ton Gorilla
Don't get it twisted: Salesforce CRM is a solid, high-quality product, fully deserving its standout position among the throngs of CRM solutions on the market today. That said, the quality of the product is not the sole reason behind the company's prominence.
A whole slew of other factors come into play: Salesforce was a pioneer in the marketing of B2B technology solutions with its "No Software" branding campaign. Dreamforce, the company's technology expo and extravaganza in downtown San Francisco, is just as much about spectacle as it is meaningful discussion and showcase of enterprise tech, an observation we've made in the past.
Inertia plays a big part in which business software platforms take off quickly in terms of mainstream recognition (if not market saturation). The bigger a savvy company like Salesforce gets, the more budget it has to spend on both marketing and engineering. Smaller software companies we've talked to in the past have noted that it's more or less pointless to try and compete for Salesforce's core markets just because Salesforce's running start has given it sufficient resources to be able to roll out updates and products in a fraction of the time it would take a small dev to do the same amount of work.
There are many highly competitive alternatives to Salesforce CRM, however, especially at the level for smaller and middle-sized businesses.
Small-to-Mid-Size Alternatives to Salesforce: Where to Start
Any of the four CRM products we singled out in the CRM installment of our Best-Value Software series would be a very viable alternative to Salesforce. Take a look at our breakdown of three of them: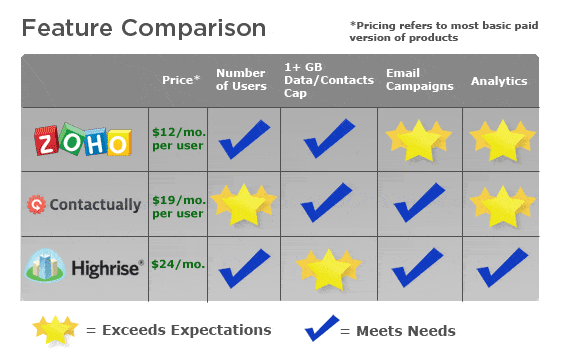 One of the biggest issues with Salesforce for smaller businesses is the way their pricing scheme works. Though Salesforce charges a paltry $5/user/month for its most basic Contact Manager plan, said plan only extends to a maximum of five users. Past five users the rate shoots up sharply, rising to $65/user/month for the Professional edition.
Zoho, Contactually, Highrise and Insightly, the four standout CRM products we chose for our Best Value series, all have roughly similar pricing for their introductory version, but the per-user increase on the next step up from that is considerably lower compared to the figure for Salesforce Professional. Not only that, but all four provide basic functions like opportunity tracking and email templates–both of which are not included with Salesforce Contact Manager, a very critical but easily overlooked discrepancy with the basic edition.
Need More on Alternatives to Salesforce?
If none of the four products we picked as our Best Values comes off as viable alternatives to Salesforce to you, then how about a collection of 40 CRM products? Our Top 40 CRM report provides you with a huge selection of some of the top brands in CRM right now along with detailed breakdowns including key features, pricing, delivery model and some of the companies who're using the product right now.
Make sure to also take a look at the newly redesigned CRM resource page, the headquarters page for all our CRM-related blog posts, research, product profiles and community members. You can also explore our full selection of blog posts on Salesforce.com.